from Militia similar to the scenes now found on Furgasm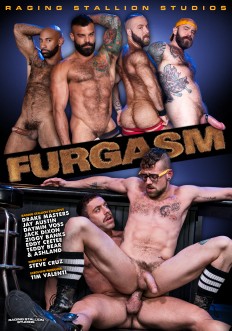 Burly Heath Jordan has got Shawn Wolfe caught in a bear hug, and Shawn is offering no resistance. In fact, he tears the shirt off Heath's furry, burly torso, then reaches around to grab a muscled bun in each hand. Heath untangles his tongue from Shawn's and lets it drift south, across Shawn's neck, hairy nipples, pleasure trail and down to his cock, which is hard with anticipation. The long, deep suction of Heath's mouth leaves Shawn's thick dick slick and glistening. Heath pauses momentarily, the tip of his tongue poised at the tip of Shawn's cock, and looks up for approval. He gets it in the form of a pat on the head and Shawn's tongue up his ass. The straps of Heath's black jockstrap frame the pale globes of his buttocks with his hole as the focal point. Later, the waistband serves as a grip and a controlling rein when Shawn fucks him doggy style. A switch to missionary position showcases Heath's hard cock and his bearish hotness. With their bodies straining, muscles taut and bulging, sweat popping out on their skin, they cum abundantly — Heath on his tummy and Shawn on Heath's beard and chest. Heath licks a few droplets of spooge off Shawn's cock and they kiss.
Download links are below the video.