Scenes that inspired the throwback looks in Route 69 can now be viewed on the latest Falcon Studios release, Falcon Vault Collection: The Classics.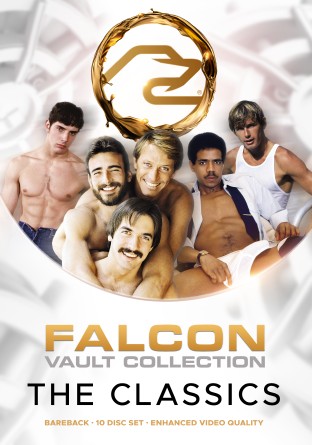 Dustin Holloway is in the car by the side of the road waiting for Fane Roberts to return from getting gas. He's jacking off in the front seat when he looks up to see Skyy Knox walking across the barren desert. As Skyy approaches, he asks if Dustin needs a helping hand and reaches down to feel the stud's hard dick. Skyy wants to do more than give Dustin a handie and opens wide to take Dustin's rod in his mouth. After giving Dustin a nice head session, Dustin wants access to what Skyy is packing and the guys take the fun to the side of the road. Dustin can't wait to get Skyy in his mouth and gets on his knees to service the horny stranger in the dirt. When Dustin gets Skyy as hard as he can be, Skyy bends the hunk over the car and slips his big dick into Dustin's open and ready ass. "Take that power," Skyy yells out as he picks up the pace and slams Dustin even harder. Dustin wants to feel Skyy deeper inside and lies back on the hood of the car. Skyy spits on Dustin's ass to lube it up and then once again slips inside the horny stud. The steady rhythm makes Dustin's eyes roll into the back of his head as he jacks his rod and blasts all over his tight ripped body. Skyy sees Dustin's handiwork and pulls to unleash a load of his own. Dustin wants to feel it hit his body and goes down on his knees in front of the muscle hunk to get his smooth chest doused with Skyy's pleasure.

Download links are below the video.